When:
June 28, 2019 – June 30, 2019
all-day
2019-06-28T00:00:00+02:00
2019-07-01T00:00:00+02:00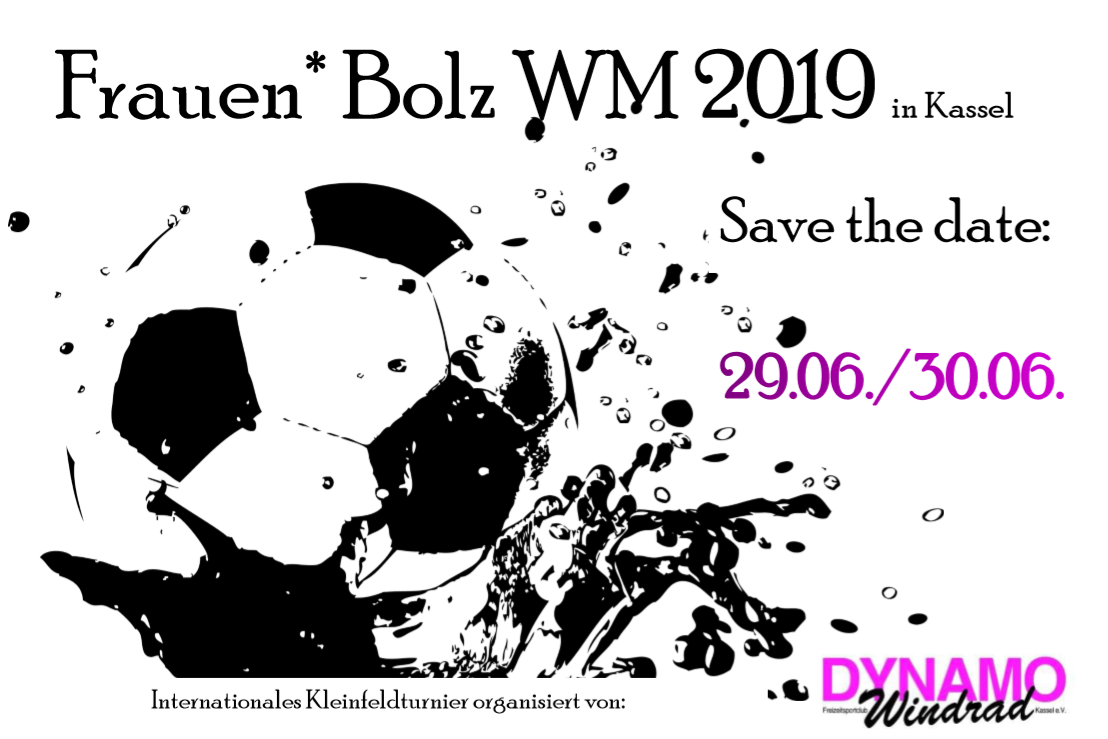 From the 28.06-30.06.2019 the women's* Bolz World Cup will take place on the Waldauer Wiesen in Kassel/Germany for the 3rd time.
Be there and kick with us on small size field (5 + 1 players*), without referees*, under the slogan fair play and with a lot of fun in the game. Whether you've been kicking for a long time or just started playing it doesn't matter. Come and play with us. Contact us - as a team or a single player* - we'll take care of the rest.
There will be various events (music, WM broadcast and a great party). Different food (also vegetarian and vegan) from breakfast, to lunch, cake and dinner will be offered.
It can be camped on site.
Arrive Friday and enjoy our campfire, as well as various program points and the welcome ceremony in the festival tent.
For those, who can't wait and can determine themselves there is a special offer: Early Bird Tickets!
Register until the end of the year and pay only 75 € instead of 100 € registration fee per team or only 10 € instead of 15 € per single player*.
Advertise with everyone you know, we look forward to many applications from all over the world. A detailed invitation and a detailed flyer with further information will follow soon.
We look forward to welcome you in Kassel!
Dynamic greetings
Dynamitas (Dynamo Windrad Kassel)
https://www.dynamo-windrad.de
* the tournament is open for (cis/trans) women, trans men, inter, queer and gender nonbinary people.