When:
January 5, 2018 – January 7, 2018
all-day
2018-01-05T00:00:00+01:00
2018-01-08T00:00:00+01:00
Where:
41564 Kaarst
Germany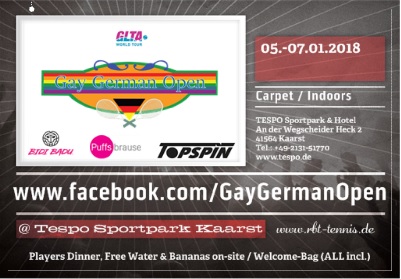 A GLTA sanctioned International Tennistournament in Kaarst, 20 kilometers west from Dusseldorf.
Venue is the lovely TESPO Sportpark & Hotel, who has 12 Indoor Carpet Courts.
We will play Singles & Doubles in categories Open, A, B, C and D.
Matches will be the best of three sets with a match tie-break in the 3rd set. Singles consolation will be played in a proset to 8 games with a tie-break at 8:8 and no-ad scoring.
www.facebook.com/GayGermanOpen
Registration: http://glta.tournamentsoftware.com/sport/tournament.aspx?id=D7ED5A56-B0EF-4C06-864E-CEF6D77530E8