Please add information about your tournaments, trial competitions and open training sessions. The Events Calendar works best if all Sports Clubs publish their planned tournament dates at the earliest possible stage and if all clubs check the calendar before planning a tournament date. Please read our guidelines, before adding your event to our website.
Jun
7
Fri
19th International Wrestling Camp Berlin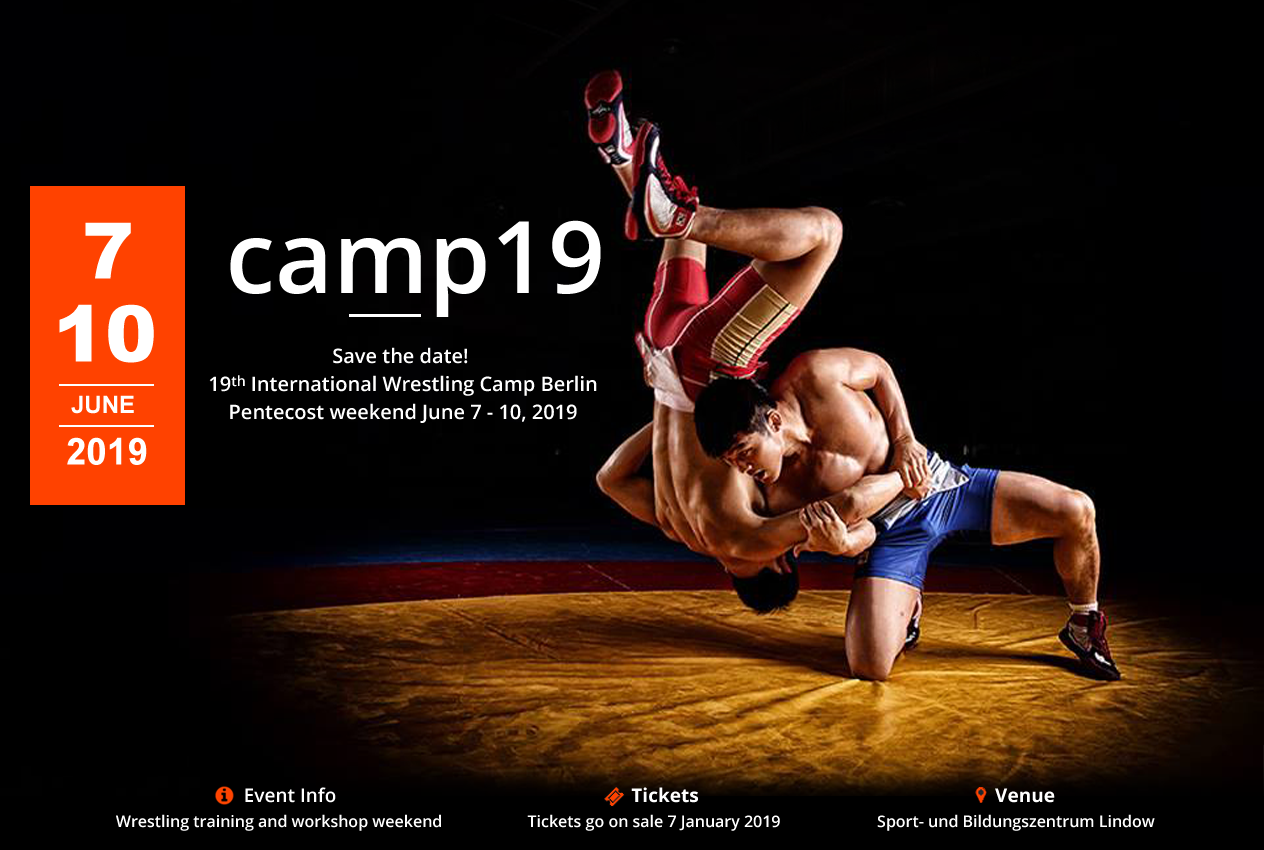 Join our 19th International Wrestling Camp Berlin from June 7 to 10, 2019. Jam-packed with four days of training, workshops, fitness, workouts, fun, laughs, bbq, camaraderie, party, friendship, and more...much more!
We will have at least 6 wrestling training sessions for wrestlers with different skill levels (beginners, intermediates, advanced), supplementary wrestling worksophs and at least 2 grappling workshops. All training sessions will be led by experienced international coaches.
The venue provides modern sports facilities, good accomodations with double bedrooms with shower and WC, a large indoor swimming pool, sauna, bowling alley, outdoor sports facilities, a beautiful lake for swimming and canoeing. Full board catering is included. A VIP shuttle service from Berlin central station will be provided.
Tickets are strictly limited to 50 persons, so save the date! Online tickets will go on sale January 7, 2019.
Sep
6
Fri
Barbie & Ken Cup: that is the famous Volleyball-Event in Berlin. You can register your team for C, B-minus , or B-plus-Level. We are planning to have 20 teams in total. Depending on the level distribution of registered team, we possibly will split the teams in C, B-, and B+. We encourage B+ teams to participate!
Important notice: As we are very interested in applications from foreign teams, we reserve 2 places in each level for teams from abroad until March 31st 2019. In addition, we have an application restriction on Berlin teams: No more than 50% of the participating teams should be from Berlin. If we are booked out, we will have a waiting list.
Registration starts Feb 1st 2019! Register online!
Fee is moderate and includes a mineral water, coffee, tee, and a yummy buffet all day long on Saturday. In addition: Party with the other teams on a special event. Optional brunch on Sunday. See website for more information.