Please add information about your tournaments, trial competitions and open training sessions. The Events Calendar works best if all Sports Clubs publish their planned tournament dates at the earliest possible stage and if all clubs check the calendar before planning a tournament date. Please read our guidelines, before adding your event to our website.
Mar
23
Fri
Are you ready for the 12th edition of the famous DÜSSEL-CUP?
Take your volleyball, swim suit, running shoes or whatever it needs to participate at the DÜSSEL-CUP! Again expecting hundreds of sportsmen and sportswomen to come together the weekend before Easter (as every year!) to celebrate diversity in all its colours when we announce the SPRINGTIME ON RHINE.
WE are expecting YOU at these sports:
Badminton
Basketball
Beachvolleyball
Running
Soccer
Swimming
Tabel Tennis
Tennis
Volleyball
Not to mention but – PAAAAAAAAARTY out at ZAKK (Fichtenstrasse) on Saturday and the Brunch on Sunday are essentils of the DÜSSEL-CUP :-)
Don't miss it – DON'T MISS SPRINGTIME ON RHINE
May
4
Fri
Prague Rainbow Spring 2018
Already for the 19th time we invite LGBT sport fans from all over Europe to Prague. Every year we make new friends, every year we can't wait to see you.
Prague Rainbow Spring is an international sports tournament for LGBT athlets, their friends, colleagues and supporters. Also this time we expect more than 400 participants from many countries to compete in volleyball, badminton, swimming and beachvolleyball.
Jul
7
Sat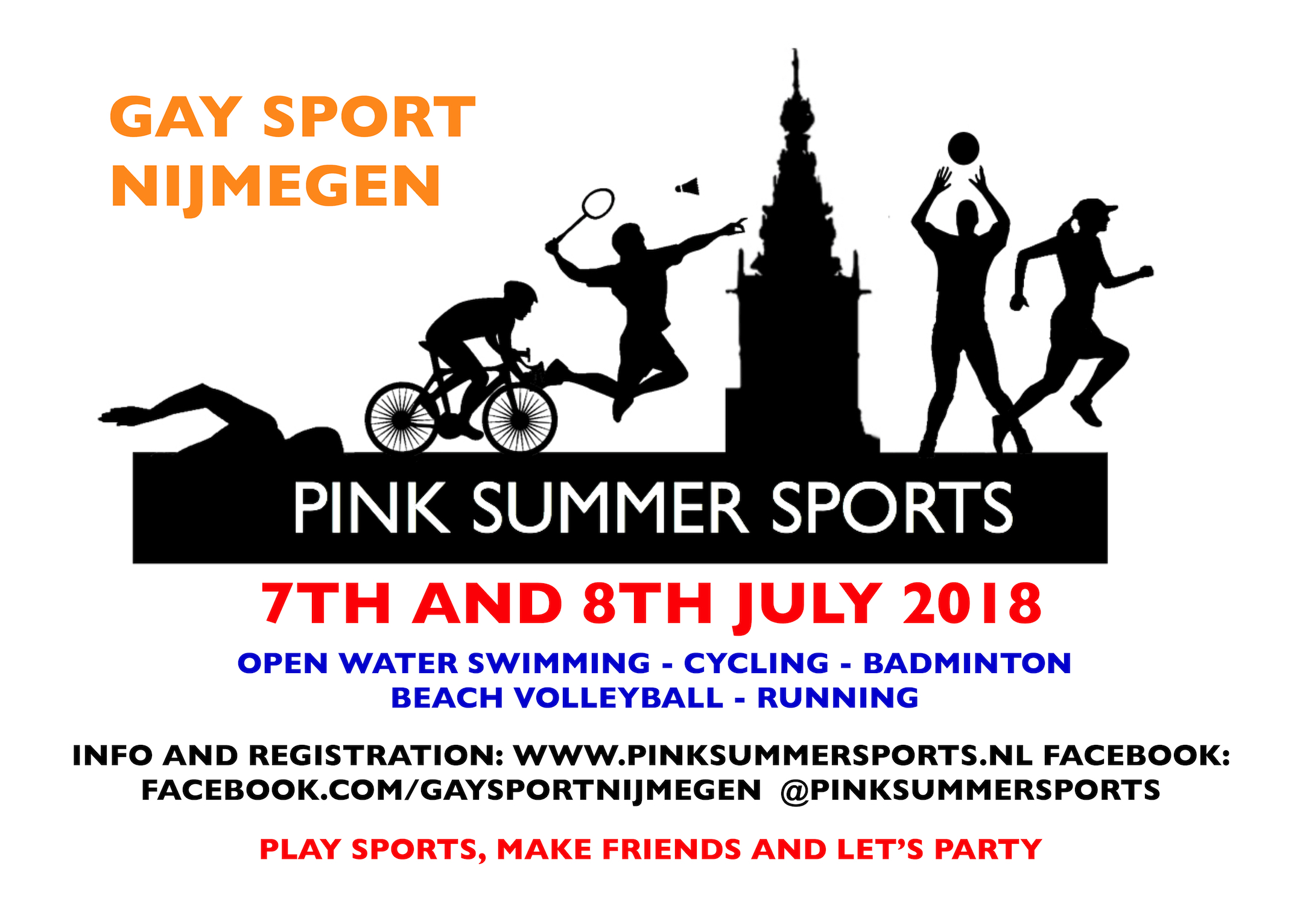 We do it again! Gay Sport Nijmegen is organizing their 7th GSN Tournament on Saturday July 7th and Sunday 8th 2018. Come to Nijmegen (Holland) to join us for open water swimming, badminton, beach volleyball, running, cycling and maybe more… Like in earlier editions Nijmegen will guarantee another fantastic sports event. Play and party with friends. We are looking forward to meet you!