Please add information about your tournaments, trial competitions and open training sessions. The Events Calendar works best if all Sports Clubs publish their planned tournament dates at the earliest possible stage and if all clubs check the calendar before planning a tournament date. Please read our guidelines, before adding your event to our website.
Jan
5
Fri
11th Gay German Open 2018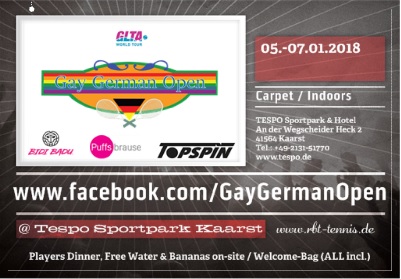 A GLTA sanctioned International Tennistournament in Kaarst, 20 kilometers west from Dusseldorf.
Venue is the lovely TESPO Sportpark & Hotel, who has 12 Indoor Carpet Courts.
We will play Singles & Doubles in categories Open, A, B, C and D.
Matches will be the best of three sets with a match tie-break in the 3rd set. Singles consolation will be played in a proset to 8 games with a tie-break at 8:8 and no-ad scoring.
www.facebook.com/GayGermanOpen
Registration: http://glta.tournamentsoftware.com/sport/tournament.aspx?id=D7ED5A56-B0EF-4C06-864E-CEF6D77530E8
Subscribe to filtered calendar